Originally called the '7up Shockwave'. Shockwave is Europe's first intamin stand-up roller coaster and is still only one of two in Europe. This exhilarating, white-knuckle ride opened in 1994, and is the only stand-up roller coaster with a zero-gravity roll. Shockwave was voted 'Best stand up roller coaster in the world,' and we're sure you'll agree once you've ridden this thrilling ride! Still a firm favourite with thrill seekers visiting Drayton Manor Park, Shockwave reaches heart-racing speeds of 53mph and delivers up to 4 g. The ultimate ride for speed-demons and adrenaline junkies, Shockwave powers you through twisting corkscrews, loops and bends – so brace yourself and wait for the green light to experience the ride of your life!

AMPUTEE GUIDANCE
One complete leg with foot and the other leg must be to at least the knee. Both arms to the wrist and one full hand. All prosthetics must be removed.
Ride Facts:
Top speed of 85km/h
Height of ride is 120ft (37m)
Restrictions:
Minimum height of 1.4m.
No smoking.
No food or drink.
Remove glasses.
Do not ride if you:
Are an expectant mother.
Have recently had surgery or have existing health conditions.
Have heart problems.
Have a plaster cast.
Have back or neck problems.
Suffer from motion sickness.
Have a fear of heights.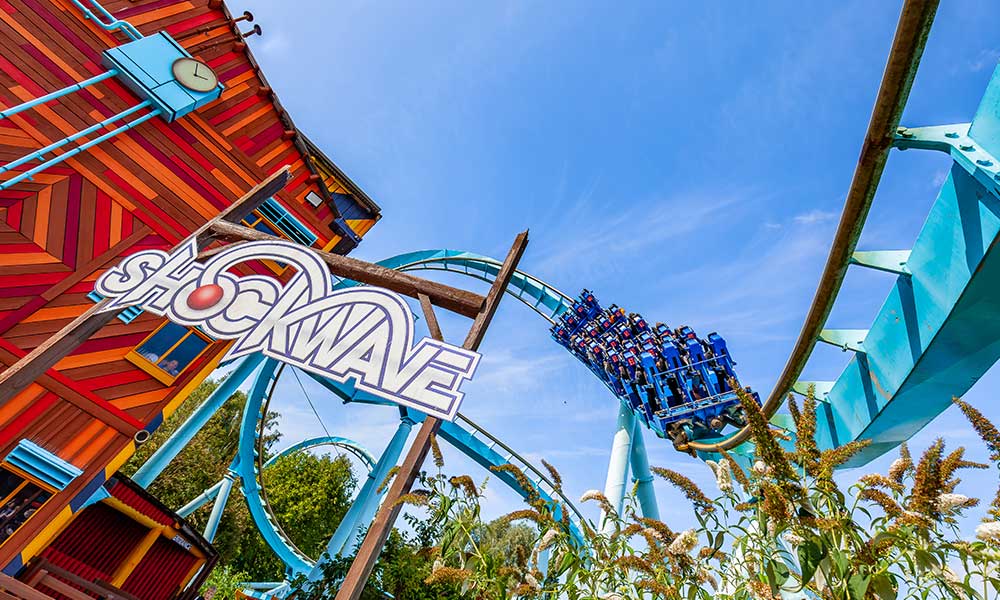 Ride type
Thrill Rides
Areas
Adventure Cove
Height
For guests 1.4m and over