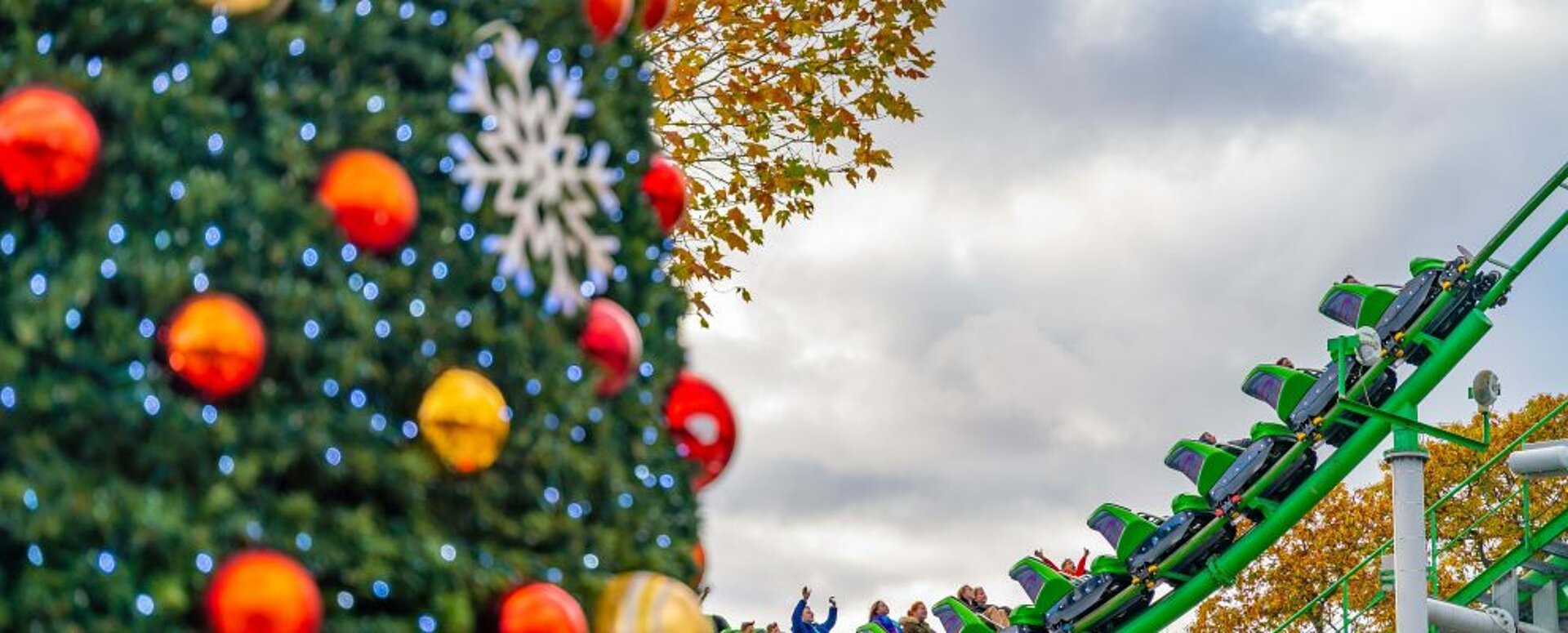 1. THOMAS LAND
Beautifully decorated for Christmas, you can enjoy over 25 Thomas & Friends themed rides & attractions in Europe's only Thomas Land. Such as: Troublesome Trucks, James & the Red Balloon, Cranky Crane and so much more.
Plus, you'll get to see Thomas in his red nose and antlers. Super cute!
2. FAMILY RIDES & ATTRACTIONS
What's more, throughout Magical Christmas there are several fun and exciting family rides open outside Thomas Land. Such as: Accelerator, the Carousel and Jolly Buccaneer. Perfect for the whole family to enjoy.
3. THOMAS LAND ENTERTAINMENT
Throughout the day, there's plenty of live entertainment on the Knapford Station balcony. The fab trio – Rusty, Dusty and the Fat Controller – will entertain with singalong shows filled with festive cheer before heading down to meet and greet and take photos with all their guests.
4. A CHRISTMAS WISH LIVE SHOW
Don't miss our live show, A Christmas Wish. Watch Father Christmas and his comedy sidekick, Elf Tinsel, as they embark on a journey to find the true meaning of Christmas. The entire family can enjoy magic, songs and jokes as they join Father Christmas and Elf Tinsel on the ultimate Christmas journey.
5. STORYTIME WITH MRS. CLAUS
Join Mrs. Claus and Elfie as they tell the story of Rudolph's journey to find his missing jingle, and bring the magic back to life.
Included in your Grotto Experience ticket.
6. REINDEER FOOD PRODUCTION
Create magical reindeer food with the help of the hilarious Elfie and Snowlexa. Then, take your sparkling dust home ready to sprinkle in your garden on Christmas Eve.
Included in your Grotto Experience ticket.
7. FATHER CHRISTMAS MEET & GREET
Experience a one-to-one meet and greet with Father Christmas himself. With the chance to tell him all of your dreams and wishes for this Christmas, before having your picture taken with him; you and the little ones will be overjoyed.
Plus, Father Christmas will treat all of his guests to a magical token, which can be exchanged for your little one's chosen gift at Father Christmas' Toy Shop. Not forgetting the adults! They can swap theirs for a hot chocolate and a mince pie. Yummy!
8. CHRISTMAS CHARACTERS
Throughout the day, they'll be plenty of opportunities to meet and greet the adorable Rosie the Reindeer. Plus, Rory the Lion will be out and about in his Christmas jumper and hat ready to pose for pictures.
9. FASCINATING 15-ACRE ZOO
Don't forget a wander through our fascinating 15-acre zoo. Featuring plenty of captivating animals such as Red Pandas, exotic birds, Tapirs and so much more.
What's more, check out our daily Red Panda keeper talk at 1pm and Gibbon keeper talk at 2:30pm to discover more about our incredible animals.
10. ENCHANTING DECORATIONS
Ready to be amazed? The park has been gorgeously decorated with plenty of enchanting decorations. From sparkling garlands, to our 35ft Symphony Tree, they truly light up the park.
11. GUARANTEED SNOWFALL
It's a winter wonderland! Thomas Land is graced with a stunning flurry of snow after each Thomas Land live show. Perfect for that festive family selfie.
12. FIREWORKS DISPLAY & END OF DAY SINGALONG
End your day watching our breath-taking firework display by the lake. Featuring Father Christmas, Mrs Claus, Rosie the Reindeer and the elves for a singalong show like no other.
The best part? It's all included in your Magical Christmas ticket!
MAGICAL CHRISTMAS TICKETS STILL AVAILABLE
Doesn't it sound amazing? Don't miss out on Magical Christmas on selected dates until 31st December. Don't delay, book today.
Posted by Danielle