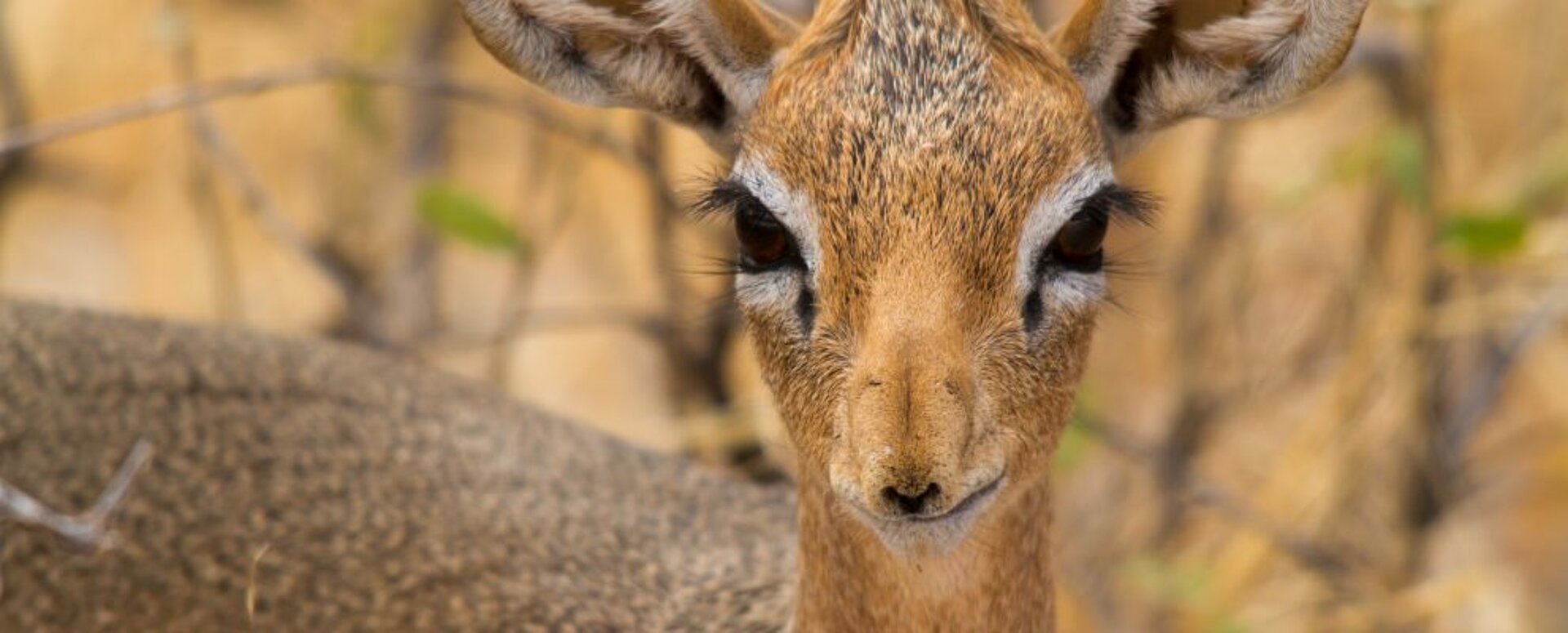 A pair of romantic Dik-diks find love!
GEORGE & LADY – THE KIRK'S DIK-DIKS
The first pairing took place on Wednesday 9 February, between our female Kirk's Dik-dik, Lady, and her new mate George.

Dik-diks are a species of antelope often admired for their 'cute' appearance. An adorable image shows the loved-up pair settling in to their new home together.
Standing at a tiny 14 – 18 inches tall and weighing up to seven kilograms, the species is widely recognised for being totally devoted to their partners – a romantic trait rarely found among other animals in the wild.
Despite being naturally shy creatures, Dik-diks are no stranger to the language of love. Males will adopt a technique of 'erecting' the hair on top of their heads to make themselves more appealing to potential mates. After pairing up, male Dik-diks then mark their territory with dung piles, where the female's dung is then covered by their own. Who said romance was dead?!
Madeira – the Vinaceous Amazon Parrot
Over at the zoo's parrot walk, a female Vinaceous Amazon parrot is waiting patiently for her partner who is currently living in a zoo in the Czech Republic.

Native to the tropical forests of South America, the vibrantly feathered Vinaceous Amazon Parrot is an endangered species of exotic bird, threatened by habitat loss and popularity in the pet trade.
Despite having to wait longer than her neighbours, Madeira is eager to meet her match and has already started building her nest in preparation. The zoo team are working hard to make arrangements for her mate and to unite the love birds!
TED – THE PATAGONIAN MARA
Another of the zoo's hopeful singles is its male Patagonian Mara, Ted, who is eagerly awaiting the arrival of Mrs Mara from Amazona Zoo in Norfolk.

Originally native to South America, the Mara is the third-largest rodent in the world and is often mistaken for a small deer due to its thick fur, pointy ears, and nimble legs. Similar to Dik-diks, Maras' mate for life, and a male only has a 30-minute window once every four months to make sure Mrs Mara has babies on the way!
Chris Mitchell, Head of Zoo Operations at Drayton Manor said: "Conservation is at the heart of everything we do here at the zoo, and our dedicated team of animal specialists have been hard at work finding the perfect pairings for our eager residents!
"The majority of our animals increasingly rely on zoos and other conservation organisations for their ongoing survival through coordinated breeding programmes, so it is particularly important that we work together to help protect the wonderful species we have in our care.
"While some animals prefer a more solitary lifestyle, we work closely with leading conservationists to ensure those who are looking for a mate are paired up with carefully selected individuals and that the best match is made.
"It seems love really is in the air this Valentine's Day and we're looking forward to seeing a number of budding romances blossom over the coming weeks."
The zoo will be open to visitors during the park's opening hours, and guests can find more information at www.draytonmanor.co.uk.
Posted by Danielle